Description
Oatmeal, milk and honey soap with moisturizing mango butter and sweet almond oil. Raw AZ wildflower honey, oatmeal, brown sugar and Myrrh give this soap a light, earthy, slightly sweet scent with a hint of caramel. This soap has a very creamy, dense lather with tiny bubbles, similar to a mix of lotion and soap. It feels fabulous on your skin and is one of my favorites.
This is a softer bar with more added moisturizing oils than some of our other recipes. Varying sizes of ground oats make this a mild to moderately exfoliating soap. For moderate exfoliating, gently rub the bar directly on your skin. For mild exfoliating, work up a lather in your hands or use with a washcloth or bath pouf.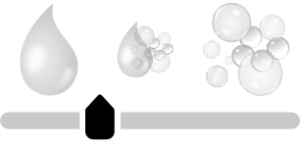 Ingredients:
Plain English: coconut oil, olive oil, raw goat milk, organic unrefined shea butter, distilled water, sodium hydroxide, castor oil, sweet almond oil, mango butter, avocado oil, oats, raw AZ wildflower honey, brown sugar, organic unsulfured molasses, vitamin e, myrrh, raw organic cocoa powder.
Botanical: Cocos nucifera (Coconut) Oil, Olea europaea (Olive) Oil, Raw Goat Milk, Organic Unrefined Butyrospermum  parkii (Shea) Butter, Distilled Water, Sodium Hydroxide, Ricinus communis (Castor) Oil, Prunus amygdalus  dulcis (Sweet Almond) Oil, Mangifera indica (Mango) Seed Butter, Persea americana (Avocado) Oil, Avena sativa (Oats), Raw AZ Wildflower Honey, Sucrose (Brown Sugar), Organic Unsulfured Molasses, Tocopherol (Vitamin E), Commiphora myrrh (Myrrh) Oil, Organic Raw Theobroma cacao (Cocoa) Powder
This soap contains essential oils. Consult your doctor before using if you are pregnant or have a medical condition.