Description
Marishka, my favorite black and white Polish chicken, was the inspiration for this soap. Hens really do hate getting wet, and most of the time they'll run under cover when it starts to rain. Marishka has a really hard time figuring that out, and several times a year I have to run out in the pouring rain and carry her in. Her feathers are always extra soft and fluffy after she dries out.
It won't make you look fluffy, but this classy black and white goat milk and egg white soap leaves your skin feeling soft and clean without a greasy feel. Egg whites, a popular ingredient in traditional Swedish face soaps, are high in protein and amino acids, and may have an astringent effect.  Fresh lavender mint essential oil fragrance. This soap is black and white – patterns vary.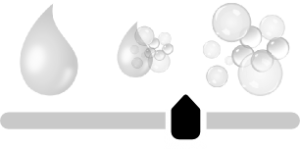 Sample:  (approx. 1″ x 2″ x 1/4″)
Medium Bar:  (approx. 2″ x 3″ x 1″)
Large Bar:  (special order)
Ingredients:
Plain English: expeller-pressed coconut oil, olive oil, raw goat milk, organic unrefined shea butter, distilled water, sodium hydroxide, castor oil, avocado oil, pasture-raised egg whites, lavender essential oil, peppermint essential oil, vitamin e, tussah silk, mineral pigment (titanium dioxide, iron oxides)
Botanical: Cocos nucifera (Coconut) Oil, Olea europaea (Olive) Oil, Raw Goat Milk, Organic Unrefined Butyrospermum parkii (Shea) Butter, Distilled Water, Sodium Hydroxide, Ricinus communis (Castor) Oil, Persea americana (Avocado) Oil, Pasture-Raised Egg Whites, Essential Oils [Lavandula officinalis (Lavender) , Mentha arvensis (Peppermint)], Tocopherol (Vitamin E), Silk Amino Acids, Mineral Pigment (Titanium Dioxide, Iron Oxides)
Consult your doctor before using any product containing essential oils if you are pregnant or have a medical condition.