Description
Fresh organic bananas and raw goat milk give this olive oil Bastille soap a gentle cleansing, creamy lather. The bananas naturally caramelize during the soap making process, giving this soap a light caramel color and just a hint of natural, sweet banana scent.
Bananas are a favorite treat here on the farm – the goats & chickens love them, and the goats even eat the peels! Bananas are an excellent source of vitamins A, B6, C and D and a variety of minerals, so we all eat them often. I also love using mashed bananas as a face mask – my skin feels so hydrated, soft and smooth afterwards, and it adds similar qualities in our soap. My mom, who happens to be my most discerning customer, has proclaimed this to be the perfect soap for her face. She says it cleans without drying or irritating her skin, doesn't leave an oily feeling behind, and has a pleasant scent.
Bastille soaps use olive oil for the majority of the oils used to make the soap, which makes a very gentle cleansing, non-stripping bar. A small amount of coconut and castor oils give our Bastille bars a bubblier lather than 100% olive oil Castile soaps. The combination of bananas and goat milk add a unique creaminess to this Bastille soap's lather.
This soap contains no added fragrances, colors or preservatives.
Average Bar Size: 3oz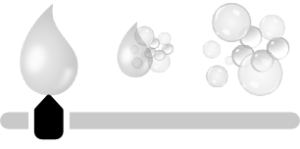 Ingredients:
Plain English: olive oil, raw goat milk, organic bananas, distilled water, sodium hydroxide, coconut oil, castor oil, unrefined arizona beeswax, citric acid, natura l vitamin e
Botanical: Olea europaea (Olive) Oil, Raw Goat Milk, Organic Musa Spp (Banana) Fruit, Aqua (Water), Sodium Hydroxide, Cocos nucifera (Coconut) Oil, Ricinus communis (Castor) Oil, Cera alba (Beeswax), Citric Acid, Tocopherol (Natural Vitamin E)