Description
This vegan foot spa bar is an extremely tough cleansing & exfoliating blend of coconut oil, sea salt, organic coffee beans and organic poppy seeds. I'm usually walking around the farm barefoot, and my feet take a beating. I use this bar on my feet in the shower every day to keep them smooth and clean, looking like I just had a pedicure.
Coffee beans and poppy seeds scrub to remove rough dead skin from the heels of your feet while coconut oil and sea salt hydrate, cleanse and moisturize. A minty fragrance blend of peppermint and tea tree essential oils gives a mild cooling sensation while tons of bubbles scrub away dirt and odors.
This soap bar is designed to be rubbed directly on the rough calloused skin of the feet, knees or elbows to exfoliate. It is not suitable for use on sensitive areas on the face or body without first lathering in your hands or on a bath pouf or washcloth.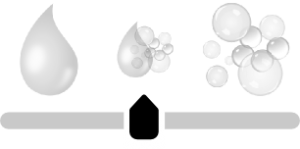 Minimum Bar Size: 
Bee / Butterfly / Dragonfly / Ladybug: 1.5 oz
Flower: 3.5 oz
Rectangular Bar: 3.25 oz
Sample: 0.25 oz
Ingredients:
Plain English: saponified coconut oil, sea salt, organic coffee beans, organic poppy seeds, essential oils (peppermint, tea tree)
Botanical: Saponified Cocos nucifera (Coconut) Oil, Sea Salt, Organic Coffea arabica (Coffee) Beans, Organic Papaver Somniferum (Poppy) Seeds, Essential Oils [Mentha arvensis (Peppermint), Melaleuca alternifolia (Tea Tree)]
Consult your doctor before using any product containing essential oils if you are pregnant or have a medical condition.